Due to COVID-19, our previous College Tour events had to be placed on hold until this pandemic was under control. As we waved goodbye to all of our collegiate events booked for the year, we had to find a way to support the collegiate esport scene.
Our Lineup
8 teams of beans. In total, 24 beans; and only 4 beans were left standing for that podium finish. We can't forget about Big Yeetus – swinging for the fences to knock out some of those beans!
Huge applause to all teams:
UTK Esports Club – University of Tennessee Knoxville
Columbia College Esports – Columbia College
DePaul Esports – DePaul University
Ole Miss Esports – University of Mississippi
CSUN Esports Club – California State University, Northridge
Utah Esports – University of Nebraska – Lincoln
Barton Esports – Barton Community College
The Collegiate Knockout Tournament was an open tournament to any esport program associated with their school as a first come first serve basis so there would be no bias towards any schools. To join, the first step was to join our Discord, obtain the collegiate role, and read through the rules to ensure all participants were legitimate and associated with their respective schools. Everyone was verified through their .edu email. (If you would like to be in on any of our next events, be sure to join our discord and ask our mods for the collegiate role. )
Tournament Rules
Our rules for the tournament were as follows:
EIGHT (8) teams of FOUR (4) players play THREE (3) Main Show Series (hereafter "gameshow") of Fall Guys. Earn points based on the number of players who qualify in each round. The quickest a gameshow has ever ended is in Round 2. The longest a gameshow can last is up to Round 6.
A collegiate team is completely eliminated from a gameshow if no team members are left to represent the team in a round. Each collegiate team gains a higher ranking based on their final additive point standings over all three gameshows.
Each collegiate team will dedicate one administrative person ("team admin") per team to record and report scores and/or coach/spectate the games played from their collegiate team.
POINT STRUCTURE
Per Round Point Structure
Round 1: +1 Point for every team member that finishes
Round 2: +2 Points for every team member that finishes
Round 3: +3 Points for every team member that finishes
Round 4: +4 Points for every team member that finishes
Round 5: +5 Points for every team member that finishes
Final Round Point Bonuses*
Round 2: Winner receives: +30 Points
Round 3: Winner receives: +20 Points
Round 4: Winner receives: +15 Points
Round 5: Winner receives: +10 Points
Round 6: Winner receives: +5 Points
*In the event that two players on the same team obtain the crown in a single gameshow, only one crown will be awarded to the team (max. 30 Points).
Week 1 Qualifier Week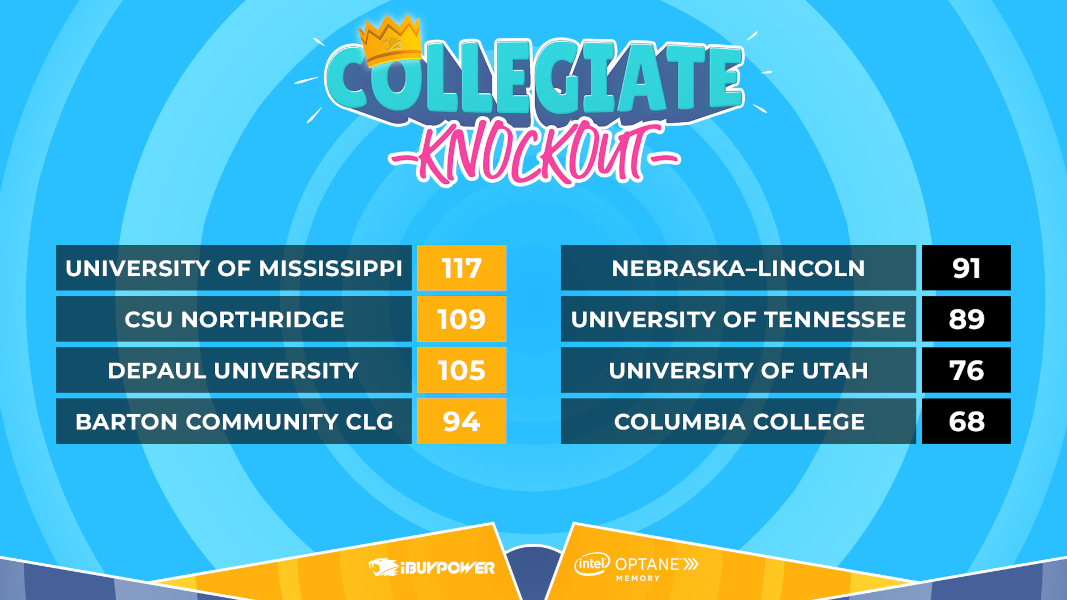 Within the first week, we'd seen some real gamers come out to dominate the standings. Ole Miss Esports came out ahead for week 1, while CSUN ESports came in 2nd place. Only four points behind, DePaul Esports came in 3rd, and the last slot to qualify for week 2 was Barton Esports.
Week 2 Championship Week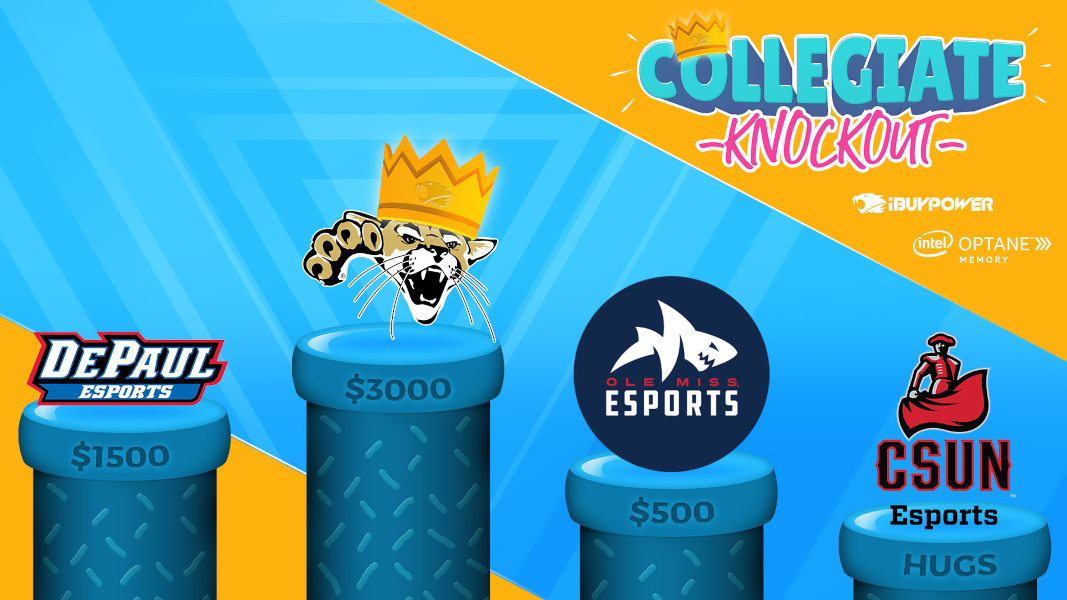 In week 2, we saw a huge turnaround from Barton Esports and DePaul Esports from week 1; they put their new bean suits on and dove headfirst to grab those crowns. With those beans falling and grabbing, Barton Esports was able to dodge the Big Yeetus and claim the first place podium finish. That got them a $3000 prize pool for their players! DePaul Esports came in a close second, and Ole Miss Esports finished off in 3rd.
We still want to give CSUN Esports a huge shoutout and some hugs (of course virtual hugs, but hugs no doubt), as they were 1 point away from a podium finish.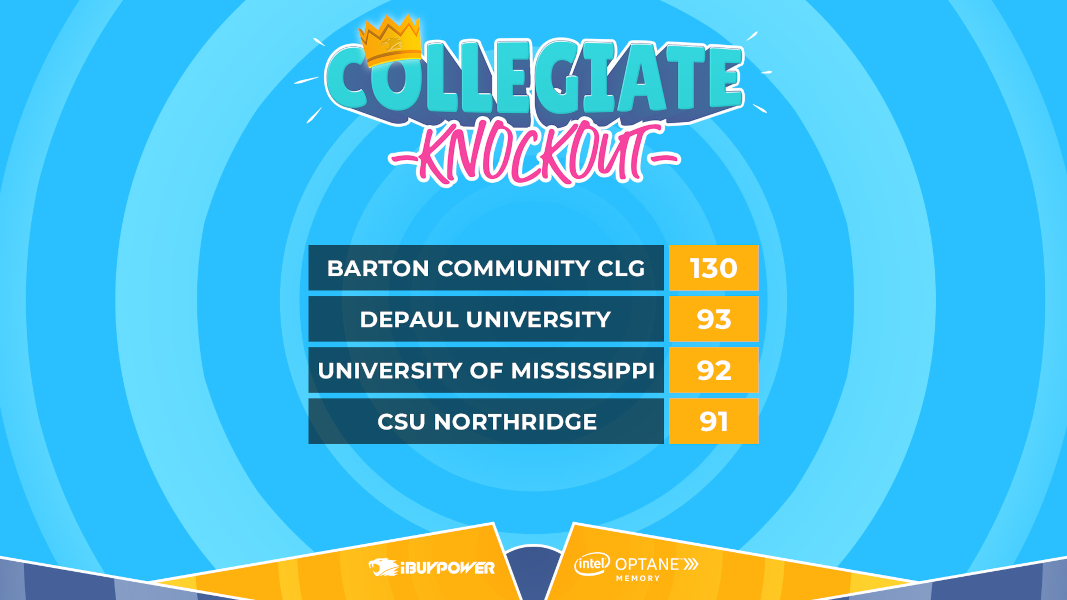 GG WP everyone, and see you at our next event!